about
the artist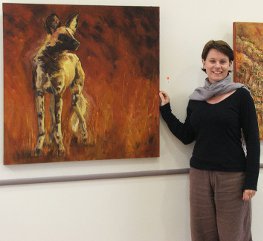 Kellie Leigh (PhD)
Kellie's work is focused on the natural environment, mainly in Australia and Africa.
After completing qualifications in commercial art Kellie worked as a graphic designer as her first career step, but her inspiration has always come from the bush so she soon moved from the commercial world into environmental biology. Here she could pursue a career that contributed to conserving nature, as well as placing her in the ideal environment to explore and develop her art.

A brief trip to Africa in 1997 turned into ten years in Zambia, where Kellie founded a long-term conservation and research organisation focussed on large carnivores, and gained a PhD in conservation biology from the University of Sydney.

Alongside her conservation work, Kellie has held highly successful solo exhibitions in Sydney, completed several painting commissions each year and her work hangs in private collections internationally.
artist's statement
"Science and art come from the same roots, they are both about focused observation and recording. With biology you record, analyse and interpret but through a carefully rationalised process. With art the observation is just as intense but you have the freedom to interpret through your personal perceptions and to communicate the way your subject has inspired you. I think both art and science have an important place in communicating the beauty and value of our environment.

My artwork focuses on one species at a time, rather than a typical scence with a diversity of birds and animals. I try to capture an easily digestible taste of an ecosystem, to explore one valuable component at a time and emphasise its uniqueness and character. At the same time my style mirrors the fragmentation and vulnerability that many species currently face, they are no longer properly connected to the life-support system and I often portray them out in a vast and formless landscape."